Teacher for "Chen Style Taijiquan Practical Method"


   20th Generation Chen Style Taijiquan disciple under Master Chen Zhonghua

Zen-Shiatsu Health Practitioner (certified by DGAM/BfG)
   Freelancing in Germany 2007-2015

Qigong Teacher
   various traditional Daoist and Buddhist Methods

Musician


   Jazz Guitar & Bansuri Flute (North Indian Classical)
About me
I was born on 1975 in Bavaria, Germany, and moved to Berlin in 1997. There I was going for a career in music, but in 2003 my live changed quite a lot, and the Asian Martial- and Healing Arts became my profession.
I am teaching "Chen Style Taijiquan Practical Method" since 2010 in Berlin, Germany.
Further I provide health care service with Zen-Shiatsu since 2007. This is a holistic method of treatment, coming from Japan with roots from the old Chinese Medicine.
Since 2009 I am also teaching basic knowledge in Qigong, which are ancient Daoist methods of self-development, holistic health care and meditation.
Backdrop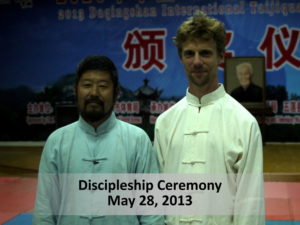 2003   I began to practise Chen Style Taijiquan. My first teacher was a disciple of Master Cheng Lijun, one of the first Masters of this art who came to Germany in these days. Further I had contact to Master Chen Xili, his father Master Chen Quanzhong, and Jan Silberstorff, Germany's representative of Master Chen Xiaowang. This was the time I did learn the first form, the "Yilu", for the first time.
2004-2007   Education in Qigong with Master Zhi Chang Li, Master Xu Mingtang, Heiner Fruehauf and Joachim Stuhlmacher.
2005   I started to study Chen Style Taijiquan from Master Xiao Jimin, son of Master Xiao Qingling, a disciple of the very famous Grandmaster Chen Fake. This was the time I did learn the classic "Yilu" for the second time, as there where some differences to my first version.
2005-2008   Education to become a Zen-Shiatsu Health Practitioner (German: "Gesundheitspraktiker") at the school of Jochen Knau in Berlin. Certificated by the DGAM ("Deutsche Gesellschaft für alternative Medizin" – translated: "German Association for alternative Medicine")
2008   I met the Daoist Qigong Master Chunjin Xiong in Berlin, learned his spiritual Qigong method "Xuan Ling Gong" and became his disciple.
2010   My first full-time training in "Chen Style Taijiquan Practical Method" under lineage holder Master Chen Zhonghua. Trainer Level One certificate.
2011   Private training and workshops with Master Chen Zhonghua in Germany and Italy
2012   Private training and workshops with Master Chen Zhonghua in Berlin, since then we had Master Chen in Berlin every year. The same year I had my second time full-time training in China on Daqingshan.
2013   On May 28th Master Chen Zhonghua accepted me as his disciple. I am Master Chen's first disciple from Germany, and I served as his representative in my home country.
2014    Certification "Chen Style Taijiquan Practical Method – Level 2 Instructor" by Master Chen Zhonghua
2015    My third full-time training in "Chen Style Taijiquan Practical Method" in China (4 month)
2016    I became the "International Manager" for our Taiji school in China and we did move with our family to Daqingshan mountain in Shandong Province, China, for a while.
2017    Our life-journey brouhght to Auroville, South India. This is a very unique place, following the principles of Sri Aurobindu and "The Mother", Mira Alfassa. We got attracted by their very well grounded spiritual approach, so we decided to stay here and become members of this International Township.
2019    In December 2019 I got confirmed as an Aurovillian. Now we are here, doing all efforts to design our life to be sustainable and fully following the divine, which to me cannot be different as to follow the Dao.
Certificates
Please click on the pictures to enlarge
Chinese Print Press
The Chinese Magazine "Women from China" did publish an article on me and my family, moving to China to dedicate ourself to Taijiquan. Thanks to the Author Sarah Wang and the allowance to republish it here. This was the print version in March 2017.
You can read the hole article here:
Picture Gallery
Please also go to my
YouTube Channel.