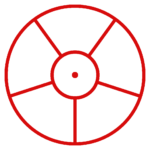 The services and teachings offered through this website are running under the legal umbrellas of Auroville. With your contribution you also support the development of the International Township of Auroville.
— Check out the upcoming workshops —
Chen Taijiquan (Tai Chi Chuan) – Qigong – Shiatsu in Auroville, South India & Online
Are you looking for holistic training methods, martial arts, special treatments or just some discussions and exchange about personal experiences?
Yes? Then please keep reading …
With this website we want to share our experience as practitioners of the internal arts of Taijiquan (Tai Chi Chuan), Qigong and Shiatsu. All of them are based on Daoist principles. Applying them practically in our daily life leads us to a very different lifestyle.
We are offering ongoing training classes, workshops and private lessons in Auroville, South India, but also online!
Chen Style Taijiquan Practical Method (Tai Chi Chuan)
"Practical Method" is the particular traditional transmission lineage after Grandmaster Hong Junsheng, who was the longest serving disciple of the well know standard barrear Master Chen Fake. Today's lineage holder is Master Chen Zhongua.
This art emerged out of the Daoist culture and the profound knowledge of the Taiji principle of yin and yang ( ☯ ). This basic principle can be applied literally everywhere, but it requires some special skills which need to be trained.
For more Information on our Taijiquan please click …here.
Qigong
I also offer training and teachings in the old Daoist energetic and spiritual systems for self-development.
Qigong and Taijiquan very often got heavily mixed up, and both tend to loose their content. As the original meaning to be a martial art mostly got lost in Taijiquan, same happened to the qualities of meditation and spirituality in Qigong,.
For more on Qigong please click …here.
Shiatsu
Shiatsu is a treatment method from Japan. It combines traditional knowledge and methods with modern approaches and techniques from the physiotherapy. But the main focus is utilising the theories from the old Daoist medicine from China (the system of the 12 meradians for instance), and most important the method of working by non-action (wuwei).
More information on Shiatsu ..here.
Holistic Healthcare & Free Natural Learning
On this website we want to promote our arts, but also we want to write more about all related topics, mainly being inspired by Daoist thinking, Theravada Buddhism, holistic methods of healthcare and way of living, alternative branches of modern science in terms of education, like Emmi Pickler, Gerald Hüther, André Stern and some more.
Let it Be!
The Beatles just nailed it many years ago, and together with "All you need is move" I'd say there is not much to be added …
The Daoist principle of "wuwei – 无为, trad: 無為", I think, is very close to "Let it be". We are used to act out so much all the time, we are not used to stay quiet and observe. If we do this, and then prolong this state, we have the chance to see how things are happening ON THEIR OWN. Healing procedures, play and learning in children, growth of plants etc.
All these to me seems to be in direct opposition to the common mainstream, therefore we want to connect to you to share experience and help each other to create the world we need to live in in a sufficient way.
In case you are interested in Taijiquan specifically, please also go to the website www.practicalmethod.com. This site is monitored by our lineage-holder Master Chen Zhonghua.
Thank you for your attention, I wish everybody lot's of inspiration!
May all beings be happy,
Michael
---
… to stay updated please sign up for the Newsletter here
---