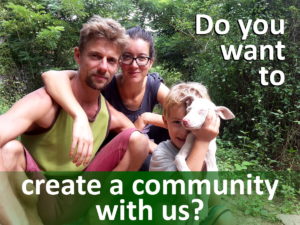 We, this is Michael, Sarah and our 7 year old son Lukas have been living in Auroville, South India since Oct 2017. We feel deeply connected to the original ideals and ideas of this place. Auroville is an international township, and there are more than 100 different projects and communities. If you have not heard about Auroville yet, please check the website www.auroville.org.
More about us, click …here. We are looking for like minded people to create a community together. The purpose of this text is to find out if you and us have mutual interests. If so please contact us via the contact form …here.
Generally speaking we want to create a sustainable living community with like minded people who desire a self-fulfilling way of life. We want to design our lives in a way that every action and all the work we do is in line with our hearts, being truthful, authentic and in line with all our values.
This is what we imagine:
1. Atmosphere
sustainable living – raising consciousness – natural farming – natural learning
spaces for training & meditation – music & arts
We want to create a place with an atmosphere to enrich and inspire everybody to grow on own individual path. One of the most important thing for us is to allow children to learn at their own speed, which includes, that we don't want to force them to go to school – if they chose to go, for sure they can do so. This so called natural learning (or unschooling), needs an active atmosphere, where people come and live together, where they practice their activity which comes from their heart in whatever field (artist, farmer, carpenter, ITler, musician, dancer, healthcare etc) it might be. For us the atmosphere is very important. There should be a common understanding, that we are all in an never ending learning process and the will and openness to share the knowledge and skills with community members – especially with children. We want to practice compassion towards all beings – including ourselves and nature. We want to create a non judgemental, compassionate atmosphere, in which we practice understanding, love and compassion for everybody and instead of pointing out mistakes in other people, to see every conflict as a learning possibility for ourselves. Non violent thinking and communication is one part of it.
2. Buildings in community
Our vision is to divide the community area into a shared community space and private spaces.
The community space ideally would have a community kitchen and gift – economy cafe, where community members can meet and share and also invite friends and guests to it. Next to this we would like to build a playground for children, so that they can be around and play and still have the possibility to be close to the talks and sharings of the adults.
We want to build a workshop facility – kind of a hall, where community members can give regular classes and workshops. Also we want to build a dormitory for workshop participants and guests.
3. Farming in community
We want to grow our organic, local and seasonal food together in the community. Everybody can also have his own garden for experimenting. We have stayed in Solitude Farm for six month and practice natural farming. It is amazing how great quality food you can grow, and how deep the relation to mother earth can be by simply following nature and reconnecting to it.
4. Lifestyle
The communal places shall be drug free (no alcohol, no cigarettes, no drugs), no processed food, no white sugar and follow a vegan diet. These rules should not apply strictly to the private houses / apartments. Every resident of this community should still be free to make their own decisions, we want to grow deeper understanding, consciousness and maturity. Still we want to establish the general atmosphere in this community through the restrictions at communal spaces, in order to inspire people to follow such a way of living.
For the whole community, including the private spaces, we want to establish a way of living without any chemicals, using biodegradable soaps only, creating as little waste as possible, returning organic matter right away back to the soil and stay open to implement whatever better methods might be found to improve. Our aim is to be in line with nature as much as possible.
5. Business
We do not want to deny business as such, nor do we think that money in general is a good or a bad thing. But we want to stay integral with our meanings, we do not want to compromise any content or any product we might create, just for the sake of earning more money. Keeping the connection to ourselves, to each other, to mother nature and the flow of things is a priority we do not want to compromise.
Part of the brotherhood we imagine is to help each other in every manner, that might also include economy and business. Practically, for instance, we want to share facilities to do workshops, host people and provide naturally grown food.
---
Interested? So please leave a comment below or send us a message via our contact form.
And please comment ON THIS WEBBLOG only, if you really want that we read it and get in touch. We cannot catch up on the social media posts, and only here things will be read by everyone who is really interested. Thank you for your understanding!
---