Sustainability and Food Awareness
– videos below –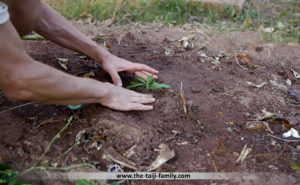 One of the main aspects of the community that we want to create is natural farming. As in all other aspects of life as well, we want to follow nature as much as possible. From the perspective of our common way of life this means to perform real paradigm shifts in many ways.
Designing a community from the scratch gives us an amazing opportunity to create it in a way that suits this idea best – also considering future improvements.
So here some little examples what we want to implement, when talking about food. This will not only lead us to more sustainability and benefit us nutritional and medicinal, but also will create an amazing impact on our consciousness and awareness towards nature and towards where our food comes from.
The following was highly inspired by Krishna McKenzie from the Solitude Farm in Auroville, where we did live 5month long during our Newcomer Period of Auroville.
Growing Chicken Spinache in Auroville
an example how to follow mother nature by going for local food
The main thing here is to go for local and seasonal food as much as possible.
Which crops are used of course are locally and seasonally different. The very core principle here, again, is to follow mother nature.
When we succeed to get rid of our man-made, artificial concepts and false desires, we can have abundance and also the perfect match for the environment, while maintaining the best nutritional and medicinal support for ourself.
These type of foods usually are so common in each region, that they got heavily under-valued and even forgotten, just because they do not appear in the shelves of the shops!
Here is an example of "Chicken Spinach" for the regions in South India.
The Value of Organic Matter
Organic matter is really no "waste" – the opposite is true!
Very simple, but also profound when really done on a daily basis:
Please feel free to comment below!